Here you can listen / download some of the sermons, which has been preached in our church
We would like to encourage you that you follow the example of the people in the ancient Berea, and study for yourself the Scripture daily to verify whether what you are hearing is true and if so to receive it "with all readiness of mind", as it is written for them:
…they received the word with all readiness of mind, and searched the scriptures daily, whether those things were so.

Acts 17:11
Recordings
| Date | Title | Speaker |
| --- | --- | --- |
| 23.11.2019 | Church of dead people | Dr. Rivelino Montenegro |
| 30.11.2019 | Repent! For the kingdom of God is at hand! | Lynyrd Singque |
| 14.12.2019 | The sleep of the just | Pr. Abraham Rangel Flores |
| 21.12.2019 | The original and copy | Alexander Rasch |
| 28.12.2019 | Transformed minds | Dr. Kwaku Arhin-Sam |
| 25.01.2020 | Important reminders for the journey | Pr. Keo Rivera |
| 01.02.2020 | The question marks of life | Marina Linet |
| 08.02.2020 | Heavy idols | Dr. Rivelino Montenegro |
| 15.02.2020 | Your sin will find you out | Pr. Abraham Rangel Flores |
| 22.02.2020 | The religion of sand | Azeze Hagos |
| 04.01.2020 | Let healing take place | Dr. Rivelino Montenegro |
| 18.01.2020 | Boyond comfort zones | Dr. Kwaku Arhin-Sam |
Below you will find more audio sermons recordings sources
AudioVerse is an online collection of thousands of Bible-based media content that is available for anyone in the world to stream and download for free. This ministry has a global reach that impacts thousands of individuals every single day.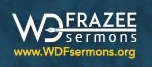 W.D. Frazee was a gospel medical evangelist. He founded a faith ministry known as Wildwood Medical Missionary Institute in 1942. He was a teacher and lecturer who taught medical missionary and Bible classes. The over 1,600 recordings of his sermons and classes and his books provided him with a way to continue to preach present truth. Even many years after his decease in 1996 he continues to preach powerful messages through his books and recordings that challenge, encourage and inspire people to this day. It is the prayer of all the staff at W.D. Frazee Sermons that this web site and ministry will do so for your soul.